In this moment the ground is covered with snow, and it's not many celsius degrees outside.
It's the time you can tie some flies, check your gear and making plans for the upcoming season.
But Sweden is a long country and the season for Searun Brown in the south is TOP right now and a couple of more months.
In March you can also have really good fishing in shallow bays for big pike. And numbers.
In a good day you will catch 5-15 pike, but in a great day you can catch the double without a problem.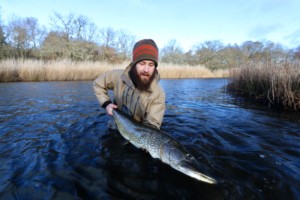 For the most of us, april is the time a lot of rivers open up and also it's allowed to fish the swedish westcoast for Searun Brown.
April is the biggest chance to get in contact with both numbers of Searun Brown, but also size.
A lot of fish are hungry after a cold winter and also the spawning period.
Some fish are therefore colored and skinny, and those fish called Kelts, are cool to catch, but for most of us coastal fly fishers we rather catch the shiny silvery ones.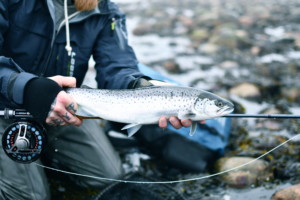 Since the winter can be mild in the south of Sweden you can most years also fish for Brown Trout in some rivers in april, and find the first rising fish eating midges and stoneflies, but also some smaller mayflies which start to hatch in the middle of April.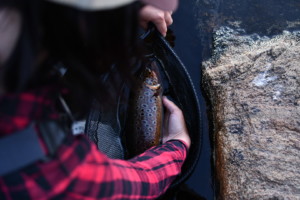 If you're interested in maybe flyfishing for big pike in shallow water, catching some shiny Searun or maybe sneak up on the first rising trout of the year, please make a booking. The best dates are going fast this time a year. Don't forget that we always have dates for flyfishing courses.
Tight lines! //Northern Trout Guides